Episode #248: Getting featured on Podcasts with Christina Lenkowski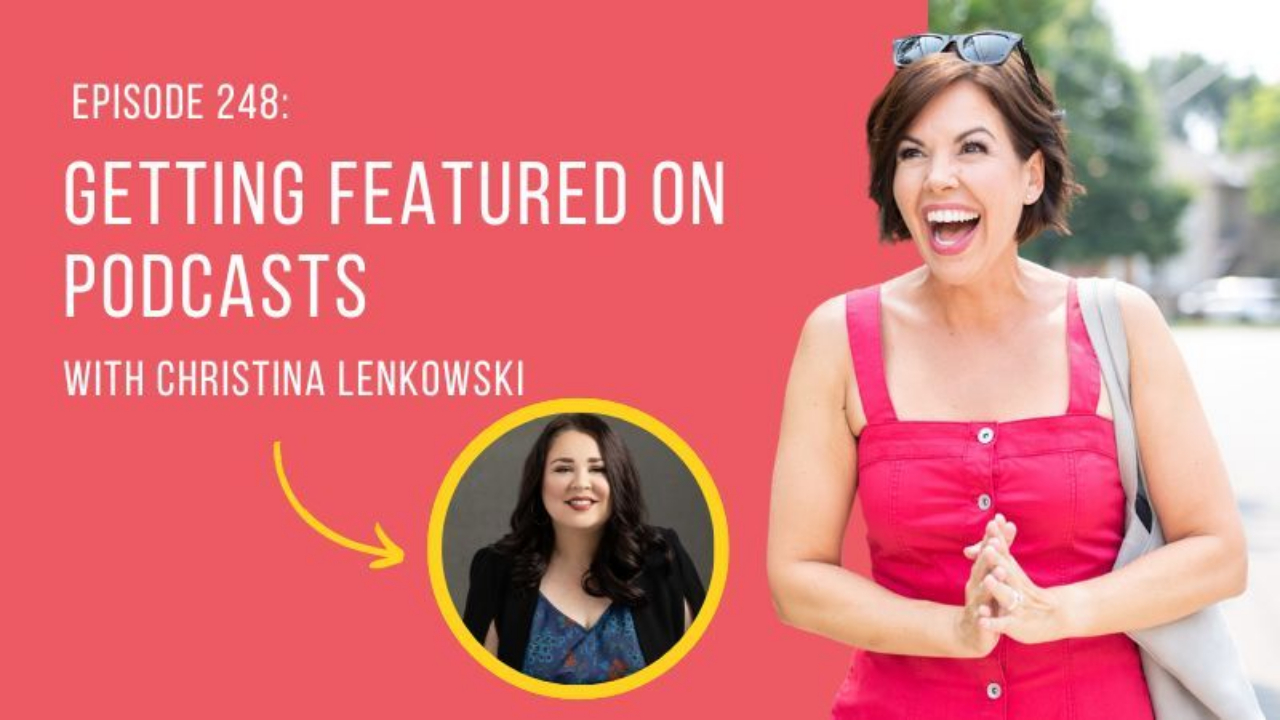 Did you know that more Americans listen to podcasts every week than have Netflix accounts? Or that podcast audiences have grown by 30% in the past three years… and are continuing to grow? The appetite for podcasts is only getting bigger, and this is a major marketing opportunity for your business!
Appearing on other people's podcasts is an incredible way to grow your audience, build your thought leadership and credibility, and attract new leads — even if you don't have your own podcast! By choosing podcasts with audiences made up of your dream clients, you can turn an hour on the microphone into a powerful (and often long-lasting) source of aligned leads!
My guest on this episode of The Business of Thinking Big is a master at getting her clients booked so that they can take their place in the spotlight! Christina Lenkowski is a PR professional who specializes in helping underrepresented online entrepreneurs, speakers, and authors go from "best-kept secret" to "go-to expert" in their niche through being a guest on other people's podcasts. She started pitching herself to podcasts in 2018 and saw immediate and dramatic results in her business. Since then, she's secured hundreds of bookings for herself and her clients.
During our conversation, we dig into the reasons why podcasts are such a powerful tool for growth, how podcast appearances can bolster your know, life, and trust factor, and what you can do to infuse more ease into your pitching process. You'll also learn Christina's #1 tip for taking your first steps on your podcast guesting journey — you won't want to miss this episode!
Listen now to discover:‌
The biggest mistakes people make when pitching themselves — and what to do instead!
Why you should approach podcasts with an attitude of service, rather than self promotion
How to turn your appearances into compelling, evergreen content
Guest bio: Christina Lenkowski is the founder of Publicity by Christina and a podcast pitch pro with 15 years of PR experience. She loves helping underrepresented online entrepreneurs, speakers, and authors get the visibility they need for the paydays they want.
Timestamps:
00:34 Meet Christina Lenkowski
05:33 Why podcasts are so powerful
09:20 Podcast statistics
15:52 Lack of consistency
17:24 Pitch templates & choosing the right audience
20:47 Your voice IS needed
23:59 Choose the right topics
25:46 Using content in perpetuity
27:42 #1 way to get started
34:02 Resources
Links mentioned:
Christina Lenkowsk
Podcast Publicity Quiz
Instagram: @publicityxchristina


—
Learn with me:

Mamapreneur Success Path - Free Audio Training
Connect with me:
Facebook: @liannekimcoach
Instagram: @liannekimcoach
Join the Mamas & Co. community to get access to valuable resources and the support of like-minded mompreneurs and mentors.
Instagram: @mamasandco
Podcasting support: